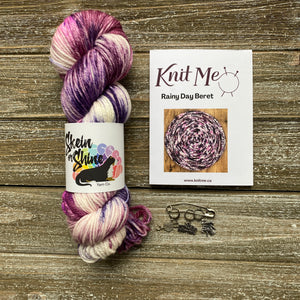 April showers being May flowers… and also create the perfect excuse for curling up with a good knitting project!

This month we'll be working on the Rainy Day Beret, which is a quick, fun project that can be whipped up in an afternoon or two of cozy rainy day knitting.

For the yarn, we have a gorgeous DK weight in 100% superwash merino from Skein or Shine, custom dyed in a beautiful blend of springtime purples.

And to round out the box, an adorable set of stitch markers, handmade by a local artist.

Box contains:
100g Skein or Shine 100% superwash merino

set of stitch markers


Pattern card for Rainy Day Beret

Link to pdf pattern
** note, the Just the Yarn option comes with the skein of yarn , without the pattern or extra, vacuum sealed and sent letter mail.