Spotlight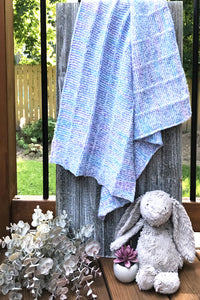 Restocked!
Our popular baby blanket beginner knitting kit is back in stock!
Shop Now!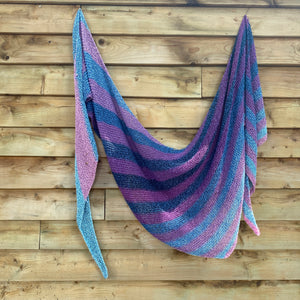 New Beginner Shawl
This asymmetrical shawl is a quick, fun project in a gorgeous 50/50 blend cotton/acrylic yarn—making it the perfect accessory for every season
more info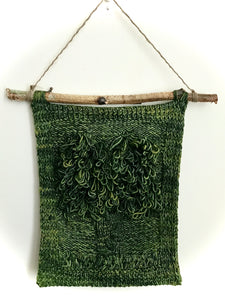 Tapestry
Bring a little nature into your home!
See kit
Maybe you're tired of only ever finding bills in the mail. Maybe you have knitters block, and want the convenience of receiving a new project every month. Or maybe you're like me, with a long list of things you'd love to make, but aren't always able to acquire the yarn. Whatever your story, Knit Me is here for you!
As a subscription member, you will receive a monthly, bi-monthly or quarterly curated box with at least 100g of fibre, exclusive patterns, and extra goodies to go along with that theme.  Every skein of yarn is one that I have personally fallen in love with, and that I am excited to share with other knitters. 
If you have always wanted to learn how to knit, but don't know how to get started, we have a kit for you. Every kit has absolutely everything needed to complete a full project, including a pattern and instructions that is suited for those with no prior knitting experience.
 We're sourcing high quality yarn from Canada and shipping within the country so you don't have to deal with surprise customs fees. Shipping is FREE within Canada and to the US and you can now choose between CAD and US pricing.
With Knit Me, we want to celebrate the love of knitting (regardless of skill level or experience), and help alleviate the stress that can sometimes come with it.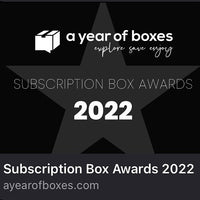 We are a Canadian Subscription Box of the Year Nominee!
Testimonials
I finished my boot cuffs and loved them. Thxs for the service and all your efforts.

Jean S
I received a gift subscription box for Christmas. It was a wonderful surprise. The slippers are fun to knit and I'm looking forward to the next 3 boxes.

Joyce Ford
I love how she puts the boxes together and the thought she puts into them, they are lovely !

Jean A
My first package arrived today. I can't wait to start this project, the yarn feels so good, soft, silky and gorgeous colours!
And so many extras inside the package! Thank you for coming up with such a fun thing to expect in my mail every month.

Carolyn Charron
YOWZA! I came home to find a wonderful package in my mail box.  I had a million errands to run but instead I started to cast on. Ha ha. It's a beautiful kit and the colours and the feel are amazing. I can't wait to finish so I can order more.

Dawn M
I've been so excited with my first Knit Me knitting kit! Kelsi did an amazing job of providing a detailed enough pattern for the taupe and purple shawl to account for new knitters like myself, while still keeping a complexity that is engaging and fun. Plus, the yarn is so beautiful and soft!! I will be ordering more, that is certain!

Jessica Hurtubise
I just retired from a very busy teaching career and have wanted to get back into knitting. I ordered the braided headband kit as I don't like wearing hats. I was very excited to open the naturally wrapped kit and get started. Thanks Kelsi for reintroducing me to the art of knitting. I ordered two more kits to send to relatives in Montreal as a surprise! These kits are wonderful and fun would be a great Christmas surprise for the young and old.

Donna Meier
Just received my latest kit - LOVE, LOVE, LOVE the colours. I bit scared to tackle the project as it's something I've never done before!! But it's exciting at the same time. That's why I love getting these parcels in the mail from Kelsi - gets me to try something new, or something I hadn't thought of trying. Thanks Kelsi, always so fun to get something in the mail, just for me, just for fun!!💗💗💗💗🎁🎁🎁

Julie V
Love my market bag from Knit Me. A fun pattern to knit and I use it all the time. Filled after a trip to the health food store.

Heather Greenis