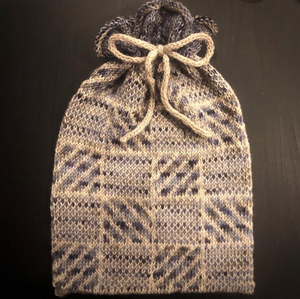 I love giving gifts. Not even just for the holidays, but all year round—especially for a random surprise. I love spending time thinking about someone I care for, and coming up with ideas of what I can buy or make to give back even a fraction of the happiness they bring to my life.
So in the spirit of gift giving, the pattern is a drawstring gift bag that will have your recipients in awe before they even see what's inside. This two colour pattern was designed for knitters who are new to colourwork and/or knitters who love colourwork but hate carrying floats (like me).
50g fingering weight yarn in MC (blue)
50g fingering weight yarn in CC (white)
4.5mm needles, or size needed to match gauge
Spare needle for 3NBO
BOR stitch marker
Optional: 4 or 8 stitch markers for each repeat or square
►This is a PDF knitting pattern only. There are no returns, exchanges or cancellations on pattern sales.