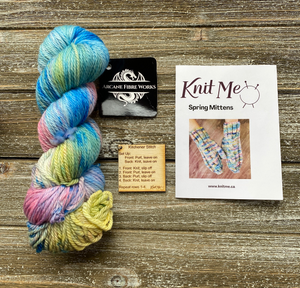 If you need a gift for the yarn-lover in your life, but don't want to deal with the pressure of choosing between the infinite number of fibre options, I am happy to take on that responsibility for you!
Your (very lucky) recipient will receive a fabulous box which will be sent out on the regular subscription schedule. Choose between a
3 month - receive a box for 3 consecutive months

quarterly - receive a box every 3rd month for a year. 4 boxes total.

bi-monthly - receive a box every 2nd month for a year. 6 boxes total.

annual - receive a box every month for a year. 12 boxes total.
They will get the chance to play with a variety of yarns from different Canadian dyers, exclusive patterns, and bonus gifts from different Canadian artists and makers—and maybe even pick up a few new skills.
Of course, you can absolutely treat yourself!
This option does not auto renew. It is one-time payment for the subscription. 
The cut-off date to order, make changes or cancel your subscription is the 10th of the month. New orders placed on the 11th or after, will be shipped the following month. Subscriptions orders ship by the end of the month.