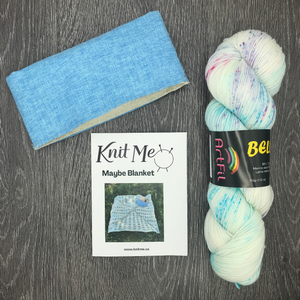 This subscription box is a celebration of all the amazing talent from Canadian yarn dyers, pattern designers, artists, and makers!
Subscribe to the full box to receive a curated package with at least 100g of high-quality natural fibre from a different Canadian dyer, in a range of custom colours, weights, and blends. You'll get a new Knit Me exclusive pattern, specifically designed for the yarn that month. The patterns will give you the chance to make all kinds of different projects over the course of your subscription, and there will also always be an extra treat, like pins, stitch markers, project bags, or anything else that catches my fancy from different Canadian artists or makers. Double the yarn to build your stash or knit up 2 projects.
Or are you a crocheter, weaver, rug hooker, and/or knitter who wants to get in on the fun without the frills? Sign up for just the yarn to receive, well, just the yarn! You'll get the same skein(s) of hand-dyed fibre, flat packed and shipped without the pattern or the extra gift.
And best of all, each subscription box comes with the joy of free shipping and receiving an exciting surprise in the mail every month (or on the schedule that works best for you)!
The cut-off date to order, make changes or cancel your subscription is the 10th of the month. New orders placed on the 11th or after, will be shipped the following month. Subscriptions orders ship by the end of the month.